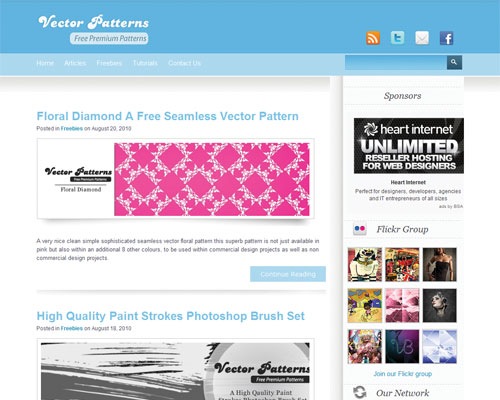 Vector patterns is design blog which was launched two weeks ago and i blog which the Creative Nerds team also run.
Vector Patterns
offers designers free
vector patterns
, Photoshop patterns, and seamless patterns which can be used in web design projects.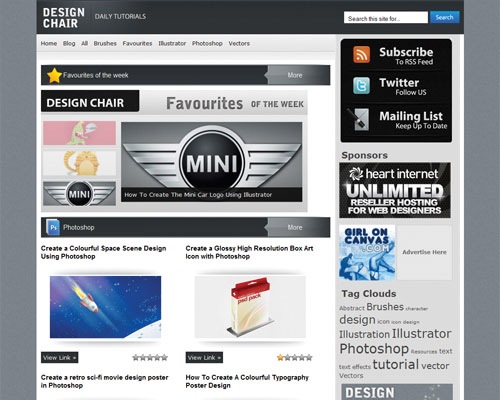 Design chair
is the perfect website for designers offering daily Photoshop and illustrator tutorials also high quality design resources such as brushes and vector files. Once again this another blog which is ran by the Creative Nerds team.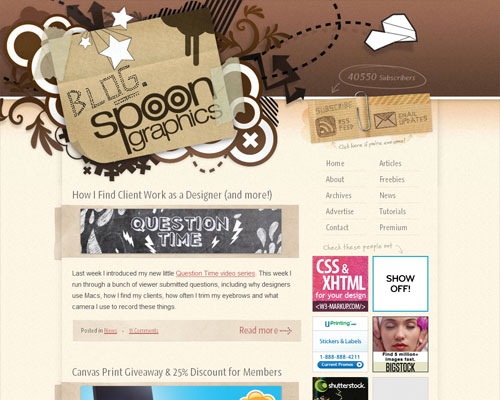 On this site you'll find design tutorials covering various techniques and effects in Adobe Illustrator and Photoshop, as well as a look into various other creative topics. There's also a range of design related articles, links and free giveaways to help you along with your future design projects.

Psdtuts+ is a blog/Photoshop site made to house and showcase some of the best Photoshop tutorials around. We publish tutorials that not only produce great graphics and effects, but explain the techniques behind them in a friendly, approachable manner.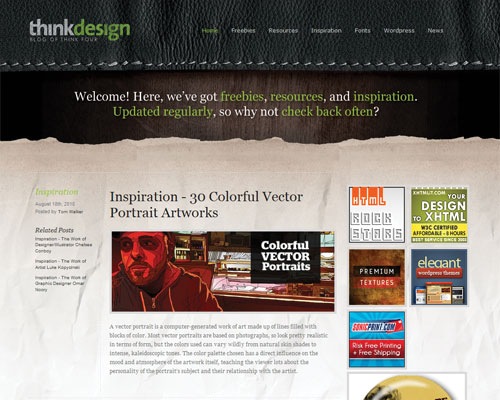 This is a graphic design blog, aiming to bring you freebies, resources, inspiration and much more. This site was created by me, Nick Pagano, the (only) designer for
Think Four Graphic Design
.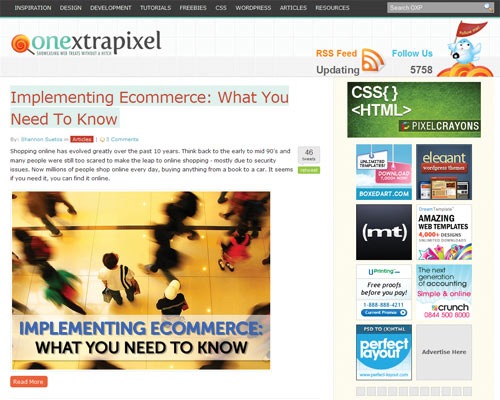 Onextrapixel, or more commonly known as OXP is a
weblog dedicated to delivering useful, comprehensive and innovative information for designers and web developers
. OXP was started by two very enthusiastic Singapore web developers and designers. OXP endeavors to present noteworthy tips, excellent tutorials, and web resources that any modern web follower will appreciate. You'll find a vast variety of ingredients from tools that can enhance your workflow management to showcases of incredible web designs and inspiration.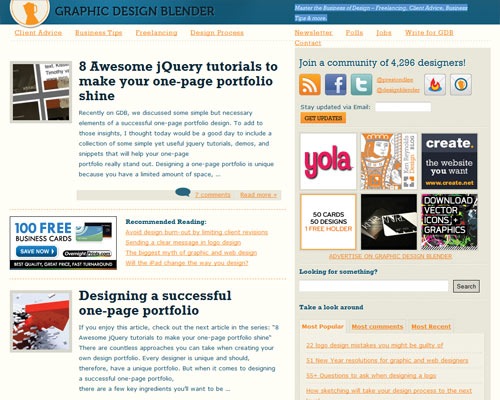 Abduzeedo is a blog about design. There are all sorts of articles for those who want to look for inspiration. Also you will find very useful tutorials for the most used applications out there, with a special selection of Photoshop Tutorials and Illustrator Tutorials. Of course there are other softwares conteplated like Pixelmator, Fireworks, and web design tutorials.
Webdesigner Depot is an exciting new platform designed to explore different web and graphic design techniques, great examples and best practices.
The Arbenting Design Blog was created by Angie Bowen & Rob Bowen to give back to the design community with freebies, how-tos and helpful advice. All of the freebies offered here are available for both commercial & personal use, no attribution required.
The Speckyboy Design Magazine launched in October 2007, as a personal web design homepage. Which is now a useful design related blog offering useful content for all designers to enjoy.
Freebies
section).
Noura Yehia
from Egypt the site is now property of Smashing Media GmbH.
all the technical bits that bloggers should know
, so they can get the most out of their blogs.
Smashing Share
is a blog dedicated to design community where we share useful
free web resources
,
design inspiration
,
freebies
and
tutorials
.
information for web designers and developers
. The website includes a
Community News Section
, a Web Design News Aggregator and it weekly delivers useful resources, freebies and awesome stuff for your inspiration.
A
n
Ext
ension of the
Net
– is a design magazine that publishes all things web design. Articles here are published by web professionals for web professionals featuring tutorials, collections, industry insights, and other resources.
Bitbox likes to give away only the best quality stuff to help designers everywhere. It also likes to post workflow tips to help people work faster. These are the posts where everyone can chime in until they find the best way to do a certain task.
Echo Enduring Media is the online presence of , Matt Ward a digital artist – by which I simply mean that he is an artist who works primarly through digital means.
Go Media is a group of guys and girls who are passionate about art and graphic design. Now you're reading a blog basically filled with lots of helpful tutorials and advice about business and design. But that's not all Go Media does. In fact, we spend most of our time designing for clients or cranking out design resources for the Arsenal.
On this website you will find a personal graphic design portfolio (My design services are currently available for hire), as well as a blog on the main subject of graphic design which provides free graphic design tips, articles & resources on all subjects of design, ranging from, but not limited to; print design, logo design, web design, branding, typography, advertising & more.
1stwebdesigner is a design blog dedicated to bloggers, freelancers, web-developers and designers. Topics focus on web design,graphic design, tutorials and inspirational articles.
,
strategic design, both on the web and in print.
InstantShift
is leading design and inspiration related community for web designers and developers daily resources and premium web design and development.